Material Available:
Item
TYPE
CHINA
USA
JAPAN
GERMANY
SWEDEN
GB
ASTM
JIS
DIN
ASSAB
1
Martensite stainless steel
9Cr18MoV
440C
SUS440C
X105CrMo17
440C
2
Austensite stainless steel
0Cr18Ni9
304
SUS304
X5CrNi13-10
/
3
Cold work die steel
C6MoV
A2
SKD12
X100CrMoV5
/
4
Spring steel
65
1065
S65C
C65
/
5
Carbon construction steel
45
1045
S45C
C45
/
6
Extra hard al-alloy
7075
7075
A7075
/
7
Forging al-alloy
6061
6061
A6061
AlMG1SiCu
/
8
Hard al-alloy
2024
2024
A2024
/
/
9
Red copper
T2
C11000
C1100
ECu-58
/
10
Brass
H62
C28000
C2800
CuZn40
/
11
Lead brass
HP660-2
C36000
C3604
/
/
12
Tin bronze
QSn4-3
C52100
C5210
/
/
13
Titanium
TA1
TA
/
/
/
| Item | Material Name | Chemical Name |
| --- | --- | --- |
| 1 | Delrin | Acetal Resin |
| 2 | ESD225 | Static dissipative PolyAcetal |
| 3 | ESD420 | Static dissipative PolyEtherImide |
| 4 | ESD520 | static dissipative reinforced PolyAmide-Imide |
| 5 | TEFLON | PTFE |
| 6 | NYLON | Polyamide |
| 7 | 501CDR6 | Static dissipative Monomer casting nylon |
| 8 | S1000 | Wholly Acromatic Polyester |
| 9 | Pk1000 | Polyetheretherketone |
| 10 | Pk450 | Polyetheretherketone |
| 11 | ACRYLIC | PAA |
| 12 | PC | Polycarbonate |
| 13 | PP | Polypropylene |
| 14 | BAKELITE | Phenolic resin |
Aluminium AL6061-T6, AL7075-T6, AL2024-T6, AL6063, AL6082-T6
Stainless Steels SUS304, SUS304F, SUS306. SUS316, SUS316L, 17-4PH, 440C
Copper, Brass, Tungsten/Copper
ABS, Delrin, Nylon, Perspex, UHMW Polyethylene, PP Polypropylene, PEEK
Titanium
Standard grade steels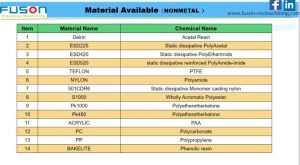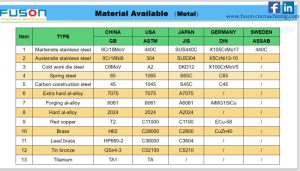 Aluminum
6061 – T6
Improved corrosion resistance over 7075
General purpose aluminum with Medium strength
Good formability, weldability
Containes magnesium and silicon
Electronic hardware, prototypes, aircraft fittings, camera lens mounts, couplings, marines fittings and hardware
7075
Higher strength over Aluminum 6061
Good fatigue strength
Gears and shafts, fuse parts, meter shafts and gears, missile parts, regulating valve parts, worm gears, keys, aircraft, aerospace and defense applications; bike frames
Brass
260
Good corrosion resistance
Resistant to most chemicals
Plate stock
Electronic hardware and contacts, fittings, commercial products, Aerospace
Navel Brass
Naval brass is the classic marine, high-strength and corrosion-resistant alloy containing 60 percent copper, . 75 percent tin and 39.2 percent zinc. It is widely used in marine construction where strong, corrosive-resistant and hard material is required and is suitable for both salt and fresh water applications.
Copper
C101
Oxygen-free electrical copper
High electrical conductivity
Good corrosion resistance in most environments
Weak against acids, halogens sulphides and ammonia solutions
Electrical contacts, general engineering, automotive, domestic appliances
Plastics
ACETAL or Delrin
Polyoxymethylene also known as  Acetal plastic is a thermoplastic material that widely used in automotive and electronic industries. The material required has low friction, high stiffness and excellent dimension stability. Acetal is mostly used in gear wheels, eyeglasses, ball bearing and locking systems.
PVC
Polyvinyl Chloride or also known as PVC comes in two basic forms. First is a rigid plastic material which is mostly used in construction pipes, doors and windows. Second is flexible forms that mostly used in cable insulation, electrical cable insulation, inflatable cables etc. PVC is the third most highly produce plastic material after polyethylene and polypropylene plastic.
Nylon
Nylon in the family of synthetic polymer and mostly used in fibre cable, films, flooring, rubber reinforcement and shapes like car parts and electrical equipment. Nylon is a thermoplastic material that becomes flexible or moldable above a specific temperature and turns solid on cooling.
Nylon plastic first used commercially in 1938 for manufacturing nylon bristled toothbrush and later on in 1939 it is introduced as a fabric at a New York World`s Fair.
Alloy Steel
AISI 4130
AISI or SAE 4130 grade is a low-alloy steel containing chromium and molybdenum as strengthening agents.
4140
AISI/SAE 4140 grade is a versatile alloy with good atmospheric corrosion resistance and reasonable strength. It shows good overall combinations of strength, toughness, wear resistance and fatigue strength.
Boiler Pressure Vessels, Tube & Pipe fittings, refinery equipment for elevated temperature service.
Carbon Steel
1018
AISI 1018 mild/low carbon steel has excellent weldability and produces a uniform and harder case and it is considered as the best steel for carburized parts. AISI 1018 mild/low carbon steel offers a good balance of toughness, strength and ductility. Provided with higher mechanical properties, AISI 1018 hot rolled steel also includes improved machining characteristics and Brinell hardness.
1045
AISI 1045 is a medium carbon steel designed to be able to function in areas requiring greater strength and hardness. This steel possesses excellent size accuracy, concentricity, and straightness which together enable to minimize wear in high speed applications. AISI 1045 can be formed into turned, ground and polished bars that can be machined unsymmetrically with limited distortion.
12L14
12L14 bar is a standard resulfurized and rephosphorized grade carbon Steel, and a free machining steel.  The added lead to the chemical composition provides improved machinability. Although the machinability is very good, the added lead content reduces the overall strength of this alloy.
Typical applications include high-speed screw machine products, spindles, bushings, hose fittings and many other items where excellent machining characteristics can be fully utilized.
Stainless Steel
303
Grade 303 is the most readily machineable of all the austenitic grades of stainless steel. The machineable nature of grade 303 is due to the presence of Sulphur in the steel composition. Whilst the Sulphur improves machining, it also causes a decrease in the corrosion resistance and a slight lowering of the toughness. The corrosion resistance of type 303 is lower than that for 304. The toughness is still excellent as with other austenitic  grades.Grade 303 is used in applications that require parts to be heavily machined. These applications include: Nuts and bolts, Screws, Gears, Aircraft fittings, Bushings,Shafts
304
304 stainless steel has excellent resistance to a wide range of atmospheric environments and many corrosive media. It is subject to pitting and crevice corrosion in warm chloride environments and to stress corrosion cracking above about 60 °C. It is considered resistant to pitting corrosion in water with up to about 400 mg/L chlorides at ambient temperatures, reducing to about 150 mg/L at 60 °C.
304 stainless steel is also very sensitive at room temperature to the thiosulfate anions released by the oxidation of pyrite (as encountered in acid mine drainage) and can undergo severe pitting corrosion problems when in close contact with pyrite- or sulfide-rich clay materials exposed to oxidation.
For more severe corrosion conditions, when 304 stainless steel is too sensitive to pitting or crevice corrosion by chlorides or general corrosion in acidic applications, it is commonly replaced by 316 stainless steel.
316
Grade 316 is the standard molybdenum-bearing grade, second in importance to 304 amongst the austenitic stainless steels. The molybdenum gives 316 better overall corrosion resistant properties than Grade 304, particularly higher resistance to pitting and crevice corrosion in chloride environments. It has excellent forming and welding characteristics. It is readily brake or roll formed into a variety of parts for applications in the industrial, architectural, and transportation fields. Grade 316 also has outstanding welding characteristics. Post-weld annealing is not required when welding thin sections.
17-4PH
17-4 Precipitation Hardening is a chromium-copper precipitation hardening stainless steel used for applications requiring high strength and a moderate level of corrosion resistance. High strength is maintained to approximately 600 degrees Fahrenheit (316 degrees Celsius).
Medical, aerospace, applications needing corrosion resistance and hardness
Tool Steel
A2
A2 delivers good toughness with medium wear resistance and is relatively easy to machine. Used in many applications which require good wear resistance as well as good toughness.A2 tool steel is an air hardening, cold work steel. A2 is a 5% Chromium steel which provides high hardness after heat treatment with good dimensional stability. It is heat treatable and will offer a hardness in the range 57-62 HRC.
D2
D2 toolsteel is a 12% chrome steel, it has very high resistance against abrasive and adhesive wear due to a high volume of hard carbides in the steel matrix, good toughness, very good dimensional stability, high compressive strength, and has a very good base material for PVD/CVD coating as well as nitriding due to its secondary hardening properties.  Applications: Cutting, punching, stamping tools, shear blades, thread rolling dies, cold extrusion dies, drawing and bending tools, flanging and straightening rolls, fine cutting tools, deep drawing tools, plastic moulds for abrasive polymers.
Titanium
Ti 6AI-4V/ Grade 5
Known as the "workhorse" of the titanium alloys, Ti 6Al-4V, or Grade 5 titanium, is the most commonly used of all titanium alloys. It accounts for 50 percent of total titanium usage the world over.